Sharing some new about my third soundset for dune
"harmonic stars"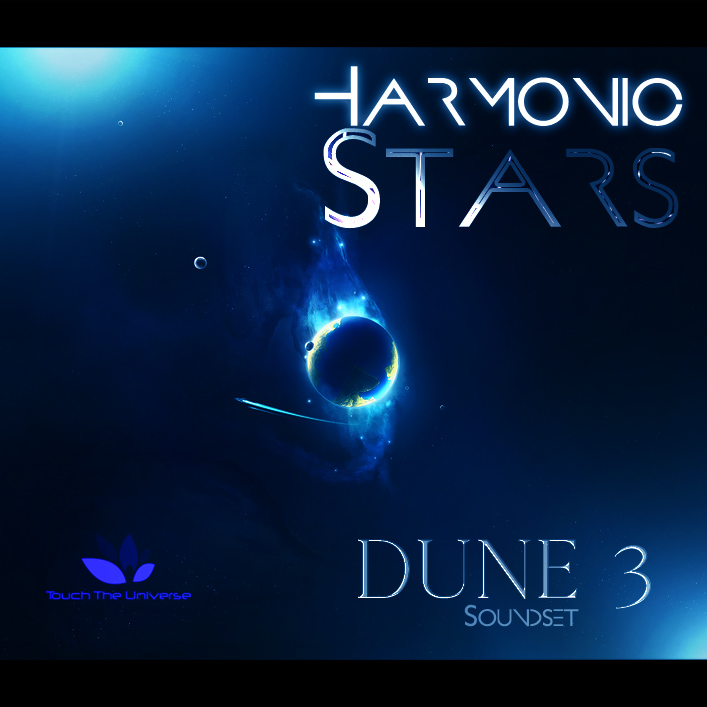 The
Harmonic Stars
Soundset contains 80 high quality presets for the amazingly brilliant Dune 3 synthesizer from Synapse Audio and is suitable for any contemporary electronic and ambient music genres. This soundset has been lovingly crafted since Dune 3's release, while being tweaked over and over on monitors, computer speakers, and headphones for optimal balance between sounds. It includes a wide variety of presets spread out in many categories, including, basses, leads, pads, keys, plucks, sequences, arps, soundscapes and FX. It also includes 11 awesome wavetables.
An optional MIDI pack is also available for an additional $5, which includes 22 MIDI Files (over 50 merged patterns) used in the audio showcases, which can be used inside Dune 3 or in other synths. These are extremely useful and sound great on there own! They can add the icing to an already beautiful sounding patch to make them truly inspiring.
Audio Showcases

https://soundcloud.com/ttu-harmonic-sta ... for-dune-3
Soundset Description

The Harmonic Stars Soundset for Dune 3 contains 78 patches for electronic music of any kind, including ambient genres. Every patch is assigned to the modulation wheel and nearly all have detailed velocity assignments. Most of the leads have some very complex and sophisticated path structuring going on with many different types of filters and resonance settings. Many patches run at audio rate settings, allowing for ultra smooth modulations, which Dune 3 absolutely excels at. All patches have been volume normalized, ensuring no clipping and equal volume distribution across the layers (including the modulation wheel settings). There are some breathtaking pads and floating keys within the soundset as well, often using all 8 layers.
Soundset Details
Include 78 Presets for Dune 3
Optional - Includes 23 Midi FIles (Over 50 merged patterns) from most of the audio demos (excluding leads). They are named identically to the corresponding preset.
All patches are volume normalized. (They won't clip and have equal volume levels when scanning between presets)
Complex Modulation Wheel destinations for all patches. When appropriate, many patches also utilized velocity sensitivity.
Patches created in the latest 3.02 version of Dune 3.
Patch Breakdown (78 Patches)

Price = $15
(Introductory Price)
More information can be found here :
https://www.touch-the-universe.com/dune ... stars.html